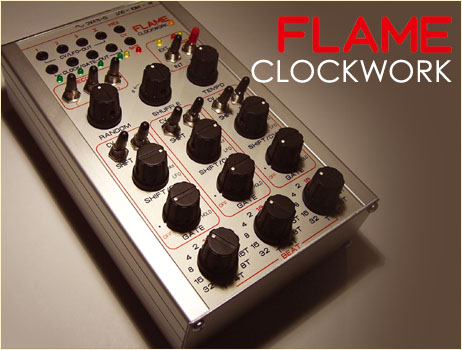 INFO
SHIFT CLOCK / CV - puls generator
(for Moogerfoogers, Modularsystems, Analogfilters, Analogstepsequencers etc.)

- Individual generator for experimental grooves
- Easy soundmachine on your analog filter
- Create new patterns with analog stepsequencer
- Tool for modularsystems and analogsynth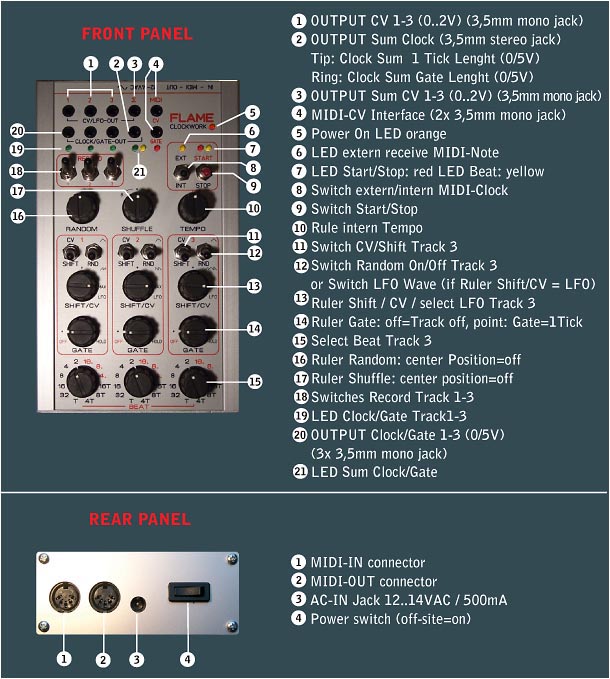 Technical details
- Analog Clock + CV-outputs
- MIDI-Sync (intern/extern MIDI-Clock)
- 3 Tracks with Beat-, Clock-Shift/CV and Gatetime-control
- Beats included triplet and punctuated notes
- Clock shift forward and backward
- LFO (synchronized), 4 Waveforms: saw, up, down, up-saw-down
- Shuffle Control (8 or 16th parts)
- Independent MIDI(in) to CV/Gate(out)
- Complex Random Functions
- Record Functions
- MIDI-Controller
- Outputs 3,5mm mono jacks: Gate or CV + Sum, Clock/Gate, Midi-CV/Gate
- Output 3,5mm stereo jack: Sum Clock + Sum Gate
- CV voltage: 0..2V
- Trigger voltage: 0..5V
- MIDI in + out
- 12..14VAC input
- Size: 165x100x42mm


Examples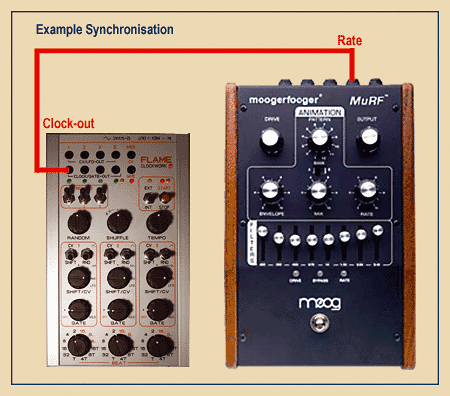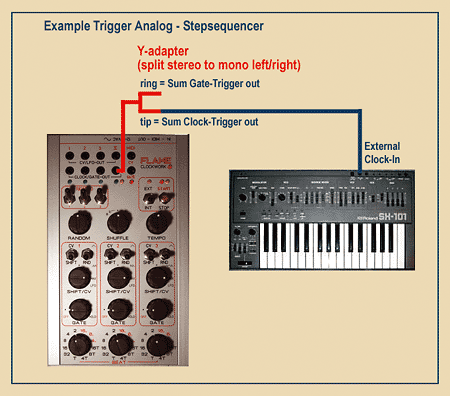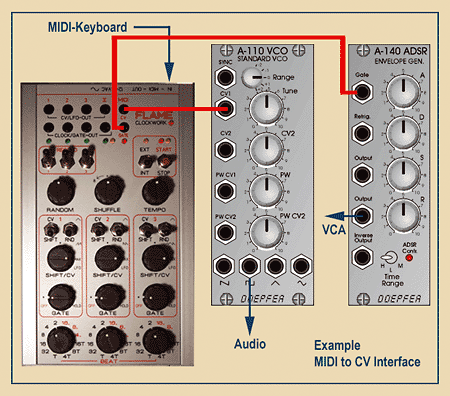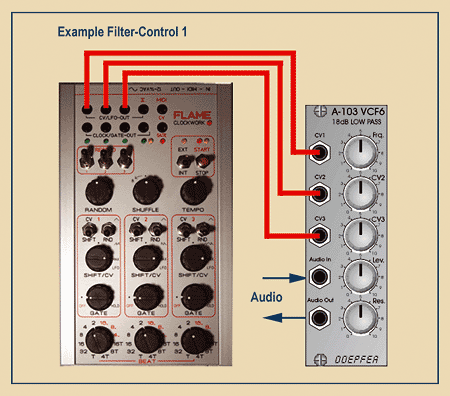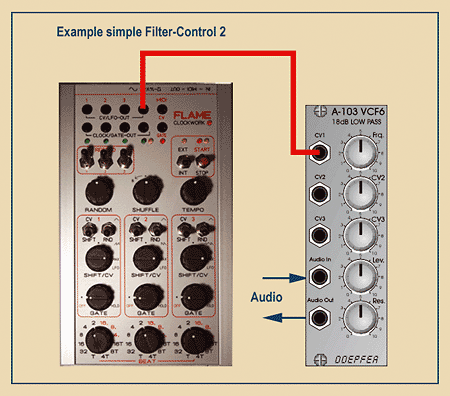 Downloads
MANUALS
- PDF - Manual Clockwork (english)
- PDF - Handbuch Clockwork (deutsch)
- PDF - Quickstart manual (english) (release version)
- PDF - Kurzanleitung (deutsch) (berichtigte Version)
MANUALS CLOCKWORK MODULE
- PDF - Manual Clockwork module (english) NEW!
- PDF - Handbuch Clockwork module (deutsch) NEW!
- PDF - Quickstart Clockwork module (english) NEW!
VIDEOS
Videos on YouTube
PROMOTION
- Press photo "FLAME CLOCKWORK" (JPG,300dpi,RGB)
- Postcard "FLAME CLOCKWORK" (PDF,300dpi,CMYK)
- Press photo "FLAME CLOCKWORK MODULE" (JPG,300dpi,RGB) NEW!
- Flyer "FLAME CLOCKWORK MODULE" (PDF,300dpi,CMYK) NEW!
TIPS + TRICKS (deutsch)
FLEXIBLERES SHUFFLE (ohne den Shuffle-Regler)

Da der Standard Shuffle-Regler nur eine geringe Auflösung hat (bei 16tel an/aus, bei 8tel nur 3 stufen) und auch nur die geraden 4tel und 8tel berücksichtigt, hier eine Kurzanleitung für die Erzeugung von komplexeren Shuffle-Beats mit Hilfe von zwei Spuren (ohne Shuffle-Regler).

1. Analog Shuffle (auf Ausgang Clock Summe = tip)

Zuerst: der Shuffle-Regler sollte jetzt immer auf Mittelstellung bleiben.
Für ein 16tel-Shuffle stelle den Beat von Spur 1 und 2 auf 8tel und verschiebe die Spur 1 mit dem Shift-Regler auf die Hälfte (Regler Shift auf 0 oder max). Jetzt laufen beide Spuren im 8tel Gegentakt und erzeugen am Clock-Summenausgang eine 16tel Pulsfolge. Nun verschiebe die Spur 2 mit dem Shift-Regler dieser Spur von der Mittelstellung aus und man hat auf jedem zweiten 16tel am Summenausgang den entsprechenden Shuffle. So wird jetzt der Shift-Regler von Spur 2 zum Shuffle-Regler und zwar mit einer viel höheren Auflösung.
Bei 8tel-Shuffle stelle die Spuren entsprechend auf 4tel.
Außerdem gibt es jetzt auch die Möglichkeit von Shuffles mit triolischen oder punktierten Noten! Man wähle auf beiden Spuren nur jeweils den entsprechenden Beat.
Eine Einschränkung hat diese Vorgehensweise: die dritte Spur sollte dazu ausgeschaltet bleiben, da sie auch auf den Summenausgang wirkt. Für interessante Experimente kann man allerdings sicher einige Versuche wagen.
Es ist natürlich möglich die beiden Spuren nach Belieben zu wählen (vertausche die obige Anordnung und man shuffelt mit Shift 1).

2. Midi Shuffle (auf Midi-Out via Notennummern)

Die Vorgehensweise bleibt dieselbe wie beim Analog Shuffle (siehe oben). Es sollten aber den beiden gesendeten Notennummern am Sampler (oder ext. Klangerzeuger) die gleichen Samples bzw. Sounds zugeordnet werden, damit die beiden Spuren dann wie EINE wirken. Hierbei steht die dritte Spur dann jedoch ohne Einschränkung zur Verfügung.
Sicher gibt es hier viel Raum für Experimente, da mit wesentlich mehr Parametern auf den Shuffle Einfluß genommen werden kann.


TIPS n TRICKS (english)
BETTER FLEXIBLE SHUFFLE (without shuffle pot)

The normaly global Shuffle had a small resolution (16part: on/off, 8: three steps).
Here is a short instruction, how you can create better shuffle beats in higher resolution with two Clockwork tracks:

1. Analog Shuffle (Output Clock Sum = tip)

At first: adjust the global shuffle pot on center position (global shuffle = off)
For a 16part shuffle set the beat of track 1 + 2 onto eight and shift track 1 to a half time (shift pot = 0 or max). Now are either tracks in alternate beat and create on Clock sum output a 16part puls. Now shift track 2 and you get the shuffle beat on Clock sum output with higher resolution and more possibilities. For an eight shuffle set the beats from track 1 and 2 on quarter notes. With this method you can also make shuffles with triplets or punctuated notes.
Please note: Set the track 3 off, because track 3 also send to Clock sum output.

2. Midi Shuffle (via Notenummbers on Midi-Output)

The same procedure like analog shuffle (see above), but set on external expander (sampler or drummachine) the same sample/sound of the note numbers from track 1 and 2. Now are the tracks like one track.
With this method you have a big room for individual experience - let's groove!


Reports / Testberichte
in english
- Report Clockwork, Paul aka Plord in AnalogueHaven's mailing list
- Report Clockwork, Floppy in AnalogueHaven's mailing list
in deutsch
- Testbericht Clockwork, Benjamin Weiss aka Nerk (De:Bug 121)

FLAME-HOMEPAGE | IMPRESSUM